Dear Least Footprint Reader,
Would you like to learn more about simple living? I have negotiated a special arrangement with the Ironweed Film Club for you to receive this month's disc for FREE! I recently signed up for this club and enjoyed it so much I contacted them to see if I could bring it to my readers. It took them a while to get back to me but once they did they came through in a big way.

The Ironweed Film Club will deliver 3 inspiring films on DVD in April 2008:
The Power of Community: How Cuba Survived Peak Oil (53 min.)
Learn how we can curb our ever-increasing oil dependency through a return to sustainable, organic living and community support.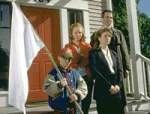 Escape from Affluenza (56 min.)
Tired of 'keeping up with the Jones' family? Before you surrender to consumerism, watch others trade in stress, debt and consumption for happier, simpler, stress-free lives.
Radically Simple (35 min.)
Engineer and author Jim Merkel demonstrates that a simple lifestyle - while at times intimidating - is not only possible but extremely satisfying.
If you Join Ironweed Films in April you'll receive these 3 films on 1 DVD--to keep not rent! If you enjoy the membership, you'll continue to receive 2-3 films each month on socially-conscious, political and environmental topics. If not, you can cancel at any time without a hassle.
Just CLICK HERE to take advantage of their offer.